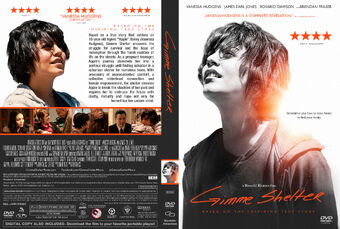 Vanessa Plays Agnes "Apple" Bailey, who runs away from her abusive, drug-addicted mother, and traces her father. Apple's difficult and abusive upbringing, unfortunate situation and her father and his wife's struggle to integrate her into their family result in conflicts
Trivia
[
]
To prepare for this film, director Ron Krauss lived for over a year in the Several Sources Shelter founded by Kathy DiFlore, and grew to know DiFiore, the shelter, and the two girls Apple Bailey is based on. The film was shot in the home of Kathy DiFiore and the original Several Sources Shelter.
Gimme Shelter received generally negative reviews from film critics. Film review aggregator Rotten Tomatoes gives a film critic score 22% "rotten" based on 66 reviews, with an average score of 4.6/10. The film received an audience score of 66% based on 7,489 reviews with an average score of 3.7/5.
Based on a true story
Plot
[
]
Agnes "Apple" Bailey has never had an easy life. She's been in and out of foster care for years, and her mother June is an abusive addict who only wants her for the welfare money she provides. She decides to run away and go in search of her absent father, Tom Fitzpatrick , whom she discovers is now a wealthy Wall Street broker with a family. He agrees to take her in, but she's quickly forced out again when he and his wife learn she's pregnant and don't agree with her decision to keep the baby.