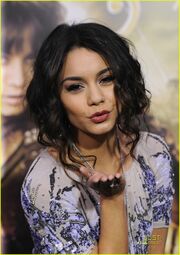 Vanessa Hudgens Facts
1.She has a younger sister, Stella Hudgens, who is also an actress
2.She started her career in show business at the young age of 8 as a singer
3.She got her first gig when her friend couldn't go to an audition for a commercial and asked if Vanessa could go.
4.Her first kiss was in fifth grade. "It was with my first boyfriend when I was 10 years old, but it was just a peck.
5.Vanessa Hudgens was homeschooled since 8th Grade and is now a high school graduate.
6.She once attended the Orange County High School of the Arts
7.Hudgens was featured in an episode of the Nickelodeon show Drake & Josh. After the taping, Hudgens, then16, reportedly took a nude photo of herself and sent to show star Drake Bell. The photo resurfaced on the internet two years later and caused a controversy for the young actress.
8.Her major breakthrough role was as Gabriella in the hit Disney Channel TV movie High School Musical.
9.She sang "Angels" by Robbie Williams at her "High School Musical" audition
10.Before she landed the role in the High School Musical, she said she considered auditioning for American Idol.
11.While on set, she begins a romance with fellow co-star Zac Efron and they date from 2005 until 2010.
12.Vanessa admitted to feeling jealous on several occasion over all the girl groupies that would lavish attention on her boyfriend.
13.Her favorite scene in High School Musical is the final one in which the cast sang and danced to "We're All In This Together
14.Her debut solo album was titled "V". She is the first one from the High School Musical fame to do so.
15.In 2007, Zac starred in her music video for "Say OK."
16.That same year, she went on a tour with fellow Disney sensations the Cheetah Girls
17.Vanessa Hudgens says she can't whistle
18.In 2007, she became the spokesperson for Neutrogena products
19.She has said in interviews that she doesn't like eating carrots because they make her "gag".
20.Her favorite fast food joint is In-and-Out burger
21.In August 2009, another set of pictures showing Hudgens topless emerged on the Internet. Hudgens's representatives did not comment, though her lawyers requested the removal of the pictures from the Internet
22.Vanessa is a huge fan of horror movies
23.She is a big fan of Natalie Wood
24.Her two favorite singers are Alicia Keys and Céline Dion
25.Hudgens learned to play the guitar while filming Bandslam (2009).
26.Her most favorite TV show is "Homeland"
27.Some of her nicknames include Nessa, V, and Van